Download ReiBoot for iOS
We live in an era where people hold onto their devices for a much longer period of time than they used to in the past, whether it be an iPhone user or an Android user. However, as time progresses, no matter how good your smartphone was, it is bound to show its age, especially true for iOS users. Over time Apple has been notorious for slowing down their old devices that people have grown to love as they launch new products. 
In fact, there can be various issues like screen stuck, recovery mode, unresponsive iOS, stuck Apple logo, and more. But once you get in touch with Tenorshares ReiBoot, your troubles will be no more since it is built explicitly for various iOS issues and makes the iOS experience seamless. So, once you Download ReiBoot for iOS, all these problems will be solved, along with many more.
In this article, we will discuss ReiBoot, its features, and compatible devices.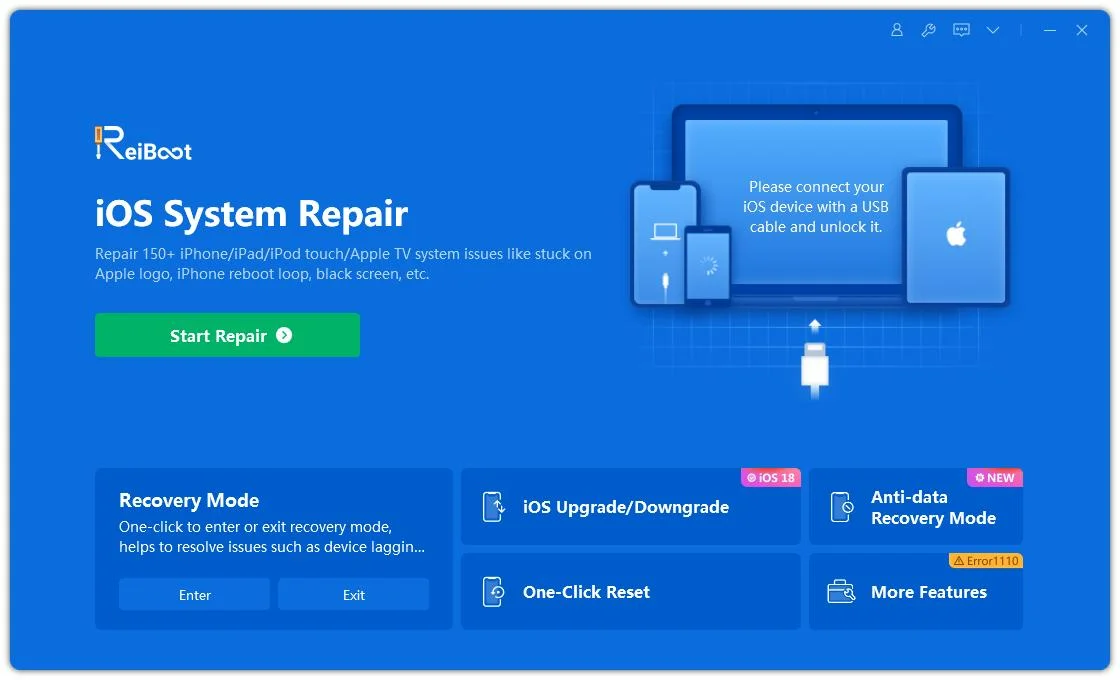 Free ReiBoot Download Here
ReiBoot is software developed by Tenorshare in an attempt to fix system issues on smartphones, phablets, or tablets from the comfort of your homes. ReiBoot is a free, user-friendly recovery tool for iOS users used to fix over a dozen issues with an action as simple as a click of a button. Additionally, Tenorshare ReiBoot is also a computer-based software application rather than a mobile-based software application which allows it to be cross-platform, meaning iOS users around the globe can ReiBoot iPhone free download on both Mac and Windows computers as a freeware app.
Tenorshares ReiBoot can help fix system issues on your Smartphone, phablet, or tablet such as the screen will not turn on, stuck black screen, Apple logo stuck, fix frozen iOS devices, execute system repairs to bring iOS devices back to normal status, factory reset iPhones, and many other things. 
Furthermore, not only can ReiBoot help complete recovery mode on your device it can also solve 50+ different iOS-related issues. When it comes to software like ReiBoot, the primary concern faced by users is the fear of losing data. However, Tenorshares ReiBoot assures the safety of your data while also providing the best solutions possible. Moreover, thanks to the continuous updates by developers, the new ReiBoot versions are now highly stable and compatible with the latest iOS devices.
ReiBoot Download for iOS Main Feature
ReiBoot is commonly used to fix issues such as a device either stuck during a boot loop or recovery mode. Once ReiBoot is activated, the device in question exits the boot loop, or recovery mode, and becomes usable once more all by itself. However, it is designed to do much more than that; here are some of the additional features offered by ReiBoot to its iOS users.
Fix the iTunes doesn't recognize the device after an update.
Update the software in case it freezes.
Provides the facility to enter or exit recovery mode on your iOS device with just a single click.
Fix the apple logo stuck issue.
Speed up and clean your iOS device without causing any bugs.
To overcome the black screen problem by repairing the iOS system.
Fix the Sleep/ Home/ Wake button does not work properly on any iOS device.
Touchscreen does not work or respond properly can also be fixed by using ReiBoot.
Downgrade iPhone Beta Software
Supported Device
ReiBoot boasts about being the best and only boot recovery application that provides an excellent experience of complete operating system repair on almost every iOS device ranging from iOS 7 up to iOS 15 Beta. All iOS devices are supported by Tenorshare ReiBoot including iPhone, iPad and iPod.