Reiboot Pro Download for Android
Reiboot Pro for Android is a professional repair tool that solves all your Android problems. Its primary use is to get into the recovery mode, download mode, and fast boot mode in just one click. Additionally, the software is designed to solve more than 50 common Android problems.
Whether you want to install a custom ROM or just fix a bricked phone, this software can help you. One of the many reasons that Android phones slow up over time is because of the accumulation of junk files, logs, temporary cache files, and package conflicts due to storage issues.
With Reiboot for Android pro free download software, all your problems are solved in a single click. In this article, we provide details on the software and also talk about all the subscription plans available at the moment. Let's get started.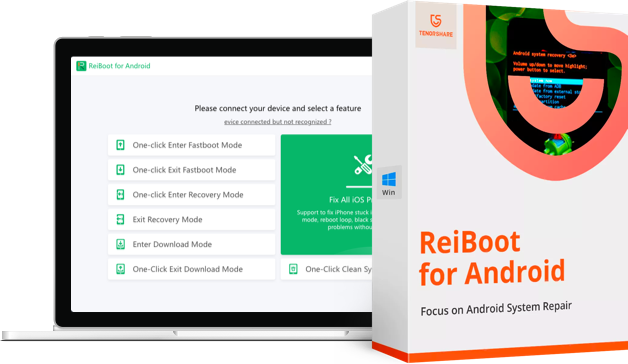 I. Reiboot for Android Pro Free Download Here
Reiboot Pro for Android is a PC software that's targeted at the most common inconveniences of an Android user. It fixes the frequently faced system lag issues and bricking issues of smartphones. Moreover, memory loss and fragmentation issues are also pretty common in Android smartphones.
Thus, you need to download Tenorshare Reiboot for Android to stay ahead of these nuances. Currently, this software is available for all PC and Mac devices. With tailored plans for every type of user, we are sure you'll find a perfect match for your requirement to get the premium license of the product.
II. What Are the Features of Reiboot Pro Android
Reiboot Pro Android offers some excellent features. For starters, you can access the Android fast boot mode with just one click. You can take the help of this mode to execute many commands from the PC to your Android smartphone. In addition, you can also flash images to your device. Normally, this process would take you 40-50 seconds but it all comes down to a click when you get Tenorshare Reiboot for Android free download.
You can also enter and exit the Android recovery mode with ease. This allows the user to gain control of some of the core functions of the device. If you forgot the passcode and are locked out of your phone, you can make use of the recovery mode to reset your device completely. As a beginner, it is not easy to get into recovery mode without technical help. However, our professional software solves that and your multiple other problems without breaking a sweat. You do not have to hold down any buttons and it's completely risk-free.
Moreover, Reiboot Pro for Android fixes about 50+ common problems of an Android device. If your phone is stuck on the Samsung logo or just shows up on a black screen, you can easily repair the device with this software. There are many combinations of keys to get into the download mode of an Android device. Reiboot Pro removes that hassle and solves it with a single click. In addition, the Android system cache can really slow down your device. Other junk files, logs, and fragmentation problems also pose a threat to the system. By downloading Tenorshare Reiboot for Android, you can optimize your Android smartphones to the fullest by clearing the Android system caches. If your phone is stuck in the bootloader mode you can get out of it in just a click without having to memorize any button combinations.
III. The Price Plan of Reiboot for Android Pro Download
There are many options to get a premium license of the Reiboot for Android. For ease of information, we have divided it into two categories.
A. Individual use
$19.95/Month
$29.95/Year
$39.95/Lifetime
A. Individual use
$19.95/Month
$29.95/Year
$39.95/Lifetime
B. Business Use
In this category, you can only subscribe to the premium license for a duration of 1 year. However, there are variants in how many devices you can use the software for. If you want to use Tenorshare Reiboot for Android for 1 PC and 10 devices, you are liable to pay a sum of $42.95 which is billed annually. Similarly, for 1 PC and 15 devices, the cost of the yearly subscription goes up to $59.95. Finally, the package for unlimited devices costs $399.00 which is billed annually.
IV. Compatible Devices of Reiboot for Android Pro
The Reiboot Pro for Android is compatible with more than 600 Android smartphones and tablets. The mobile giants like Samsung, Xiaomi, Realme, Google, Motorola, HTC, Sony, Huawei, etc. are all included in the list. However, a special feature 'Repair Android system' is only supported across Samsung smartphones.
Moreover, there are some additional requirements for the Tenorshare Reiboot Pro software. It requires Windows 10/8/8.1/7/XP/Vista (32-bit/64-bit) to run the software so systems like Linux are out of the equation. A GPU of 1 GHz and above is required to run the software. Lastly, RAM of 256Mb is the least requirement. But we recommend at least 1 GB of RAM to run the software smoothly.
Overall, Reiboot Pro for Android is an amazing software that offers you tons of utilities in just a single click. So, head over to Tenorshare to download the Reiboot Pro for free.